Yare Valley Churches
One Church 
Three Worship Centres 
A Place for Everyone 

Latest News/Feature...
Remembrance Day Services
Posted: Tue, 7 Nov, 2023 (1 month ago) by Libby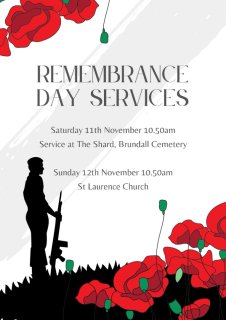 Everyone is welcome to come and join us as we gather to honour those who served and remember their sacrifice. 10.50am on Saturday 11th November at The Shard, Brundall Cemetery, and 10.50am on Sunday 12th November at St Laurence Church, Brundall.
More Recent News & Features
Harvest Festival at Braydeston (2 months ago)
More news & features for Yare Valley Churches »
More news & features across the villages »
Dashboard
Email Updates
Always be the first to know. Tailor your email update to suit your preferences. You can set it to check for updates to the site at a frequency that suits you. You will only be mailed when there is new content.
Sign up / Sign in »
Get in touch
Comments? Good or bad experiences of the site?
Phone: 01603 715136
Email:
Online contact form »