Arrangements for Sunday whilst in Tier 4
Posted: Sat, 2 Jan, 2021 (2 months ago) - by Peter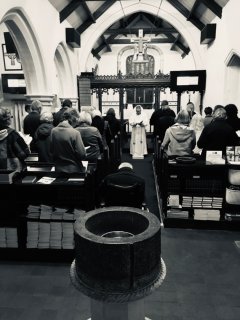 Important Information about our Worship Services
One of the important features of church life during the past 9 months has been our ability to be agile and make changes as the world around us changes. Just last week I let you know that weekly worship would continue but, inevitably, there would be changes as we sought to navigate our way through Tier 4 restrictions.
As I mentioned, we want to ensure that we are playing our part in ensuring that communities and individuals stay safe as the vaccine begins to be rolled out, as well as supporting those in our community for whom online worship is hard to access.
We recognise that many have made the decision to worship from home whilst we are in Tier 4 and we want to do all we can to support that as well as provide for those for whom weekly worship provides the support they need at this time (both spiritual and emotional). 
From the 3rd January until further notice, we will be having one service on a Sunday (at 10am) and one service on a Tuesday (at 2pm). Both services will be held in St Laurence church, Brundall. At each service there will be 18 'bubble spaces' available which will be clearly marked on the pews. People will not need to pre-book their space but will need to record their name as they enter (or use the Test and Trace venue check-in through the NHS app on their smart phone). Hand sanitisation, mask-wearing and social distancing will all need to continue to be observed. 
The Sunday service will be recorded each week and will be available online from Sunday afternoon (the delay in time allows the team to ensure the picture and sound quality are of a good enough quality to access online).
Tom (sports minister) and the Active Kids Team will be creating an online session for the younger members of our church community each week whilst we are in Tier 4. This will be available through our YouTube channel as well as accessible through the enotices.
Whilst we journey together through these difficult times, we lift our eyes and focus on the hope that we have in Christ. As we enter a new year, we do so knowing that we are held in God's hands and that, wherever we worship, we are united by our love for Him and His love for us.
You remain in my thoughts and prayers and I wish you a Peace-Filled, Hope-Filled, Joy-Filled New Year!
Back to top of page