Space Academy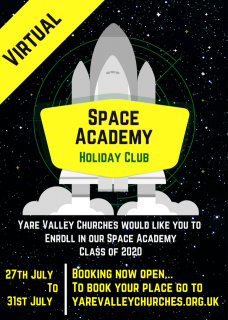 Our Holiday club this year has had to go virtual... We will need you to sign up as usual through our website: yarevalleychurches.org.uk
Space Academy is available for children going into reception through to those going up to secondary school in September.
There is a choice of tickets, you can choose whether you would like your child to receive an activity pack or not. The activity pack will have things to do for the duration of holiday club providing all the resources you need. There will be a five pound charge for the pack to cover the cost of the materials.
Space Academy will have a number of videos with some interactive elements which will be emailed to you, during the morning, from the 27.07.20 to 31.07.20
If you have chosen the activity pack option there will be opportunity to do these between the videos.
Tickets available now until 24.07.20